Your next career move starts with a great CV
Your next career move starts with a great CV. It's your open door to future employers and your first chance to make a great impression. So, stand out from other applicants with a fresh, neatly structured and presented document promoting your skills, career and qualifications. That's where we come in.
Sell yourself
Inspired CVs consultants are a team of experienced copywriters and designers, producing CVs, cover letters, LinkedIn pages and presentation documents for clients from all industry backgrounds. For nearly a decade, we've been helping people from graduates to chief executives create marketing tools to promote themselves.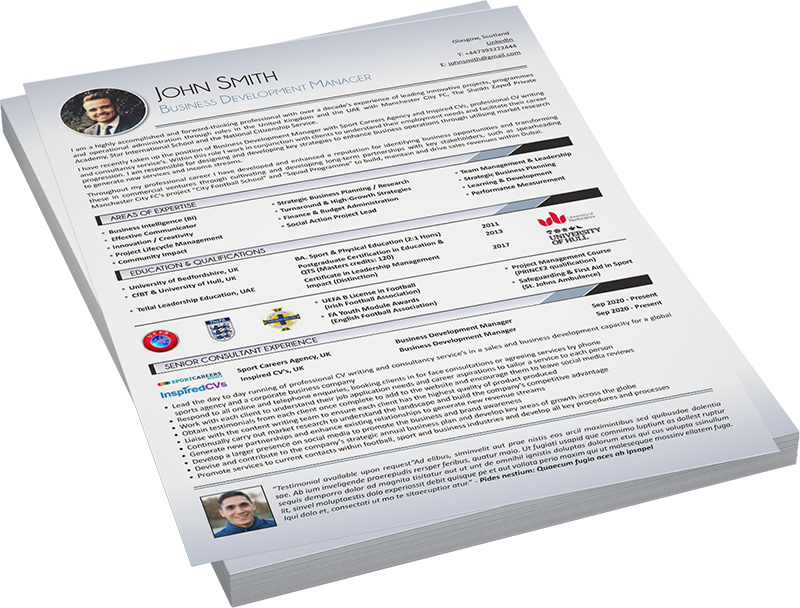 A Package for Everyone
Choose from standard CVs to graphically designed presentations – we've got a selection of packages to suit your needs and budget. For some extra help, our interview coaching and mentoring service can help ease your nerves, focus on the task and give you tips to be confident and articulated.
Let's start the journey to your next role together.
You need to feel confident and comfortable to sell yourself and answer questions assertively. Our interview skills workshop will help you prepare for any level of interview and ensure that you are aware of what lies ahead.
Time in business is precious and often, internal HR departments do not have the resource or time to help outgoing employees as part of redundancy packages – that's where we come in.
I needed help with interview techniques for a new career in the education sector and also help in creating my CV after 16 years.
I had 2 sessions with him and I have to say he was extremely professional and patient. The way he explained and broke things down was exceptional and helped my understanding. He was able to break things down in bite sizes and I have to say his knowledge was exceptional. I knew it would take me a while to understand and he was extremely patient. Prior to his help I had a few interviews and I was a bag of nerves and did not do well at all.
Additionally Joshua helped to build my confidence, self esteem and self belief. Without his help I would not have been able to confidently present myself in interviews. The next interview I had although I was nervous I was over the moon when I was informed I had been successful in securing the position. It was money well spent and I would highly recommend anyone looking for help to contact him.
Without his professional help I know I would not have been able to progress. Thank you very much Joshua for all your help, very much appreciated for changing my life for the better.

Sport Careers Agency is our dedicated service for helping those involved with the Sports industry find their next career move.
Our stunning range of CV designs, jaw dropping Powerpoint presentations and polished philosophy documents can help get you noticed in a fiercely competitive landscape and our fabulous job board can help you find that dream career move.
Head over to our dedicated website today and find out more!